Life Insurance in the 21st century is vastly different from the old Life Insurance. Life Insurance is not only used for a Death Benefit to provide for loved ones, its used for its Living Benefits, as well. Ed Slott, America's IRA Expert, says this about life insurance, "I do not sell life insurance. I am a tax advisor. And as a tax advisor, I can tell you that the single biggest benefit in the federal tax code is the income tax exemption for life insurance."
We understand the last thing you want is to leave a financial burden behind for your business partners, spouse, children, and loved ones. That's why our experienced team will help you choose the life insurance plan best suited for your specific situation.
Life Insurance is an important part of your plan that can help:
Pay taxes, including federal, state, inheritance, and estate taxes
Donate to your favorite charities
Buy & Sell Agreements
Cost-Efficient Key Employee Retention
Long Term Care Benefits in Retirement
Provide financial security for your loved ones
Create an inheritance
Create a Tax-Free Income Stream in Retirement
Long Term Care Benefits of Life Insurance
At Juniper Wealth Management, we'll design a plan to help you pursue your goals.
REQUEST YOUR COMPLIMENTARY REVIEW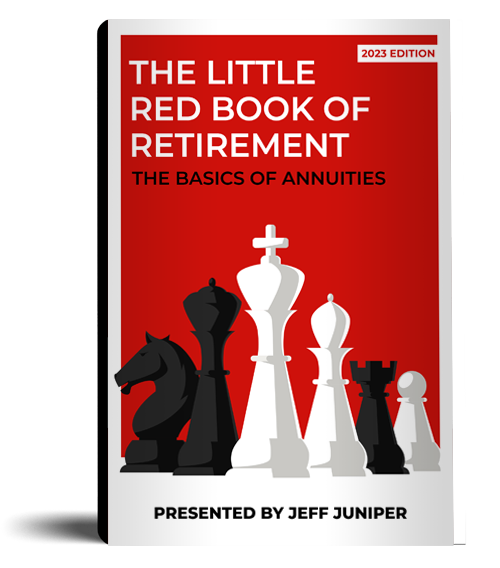 The Little Red Book of Retirement: The Basics of Annuities.
Don't run out of money before you run out of breath! Annuities tend to be very controversial, with financial experts disagreeing on whether they are a good investment or not. Decide if they're right for you by reading our comprehensive guide to annuities. This book takes an in-depth look at the types of annuities to help you understand how annuities could be a great income stream in your retirement.